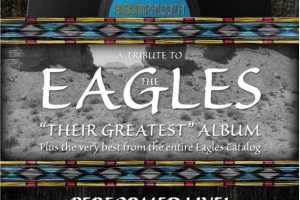 A Tribute to the Eagles
"Albumpalooza" concert series returns to the CasaBlanca performing what has just been ranked the best selling album in the history of recorded music! Eagles Their Greatest" features timeless classics like One of These Nights, Take It Easy and Desperado.The Albumpalooza Eagles band performs the entire album track to trac, cover to cover followed by iconic hits that came afterwards including Hotel California, Life in the Fast Lane,  andI Can't Tell You Why?.
Their Greatest Hits (1971-1975) is a singles compilation album by the Eagles, released in 1976. As of  August, 2018 and sales of over 38 million copies.