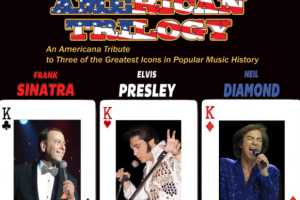 American Trilogy - Tribute to Frank Sinatra, Elvis Presley and Neil Diamond - Holiday Edition
Event Type:

Impersonator & Tribute Act, Music: Pop/Rock

Price:

General Admission $18 & up; VIP $23 & up

Dates:

November 30, 2018 - December 1, 2018

Recurrence:

Recurring daily

Time:

8:30 PM

Location:

CasaBlanca Hotel - Casino - Golf - Spa
Imagine if 3 of the biggest icons in popular music history decided to perform a concert for the sole purpose of saying "Thank you" to the country that has taken them from having so little and given them so much. UNITED WE SING!
Special Holiday Edition featuring Christmas favorites sung by all 3 artists..."O Come All ye Faithful", "Do You Hear What I Hear", "O Holy Night", "Blue Christmas", "White Christmas", "If Every Day Were Like Christmas" (an Elvis original), "Santa Bring my Baby Back to Me", and a few more surprises! A night of favorite hits and holiday hits all in one show!
American Trilogy is the new Las Vegas hit show that brings together 3 of the greatest and most beloved entertainers in popular music history – 'FRANK SINATRA' (Gary Anthony), 'ELVIS PRESLEY' (Justin Shandor) and 'NEIL DIAMOND' (Rob Garrett).
What distinguishes American Trilogy from other tribute shows is that these 3 particular performers have either collaborated or connected in one way or another during their prolific, illustrious careers.
The show will focus on the mutual respect and admiration the men had for one another and the love and gratitude they shared for their country. They personified the American Dream, becoming three of the biggest megastars of our time.
In addition to performing solo segments backed by a live band, the show includes interaction between each of the performers before the audience gets treated to the ultimate trifecta as the stars unite for a moving, upbeat, patriotic finale.