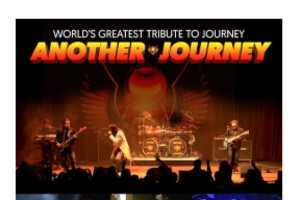 Another Journey - tribute to Journey
Based in Las Vegas, Another Journey is considered by most fans and clients to currently be the greatest live international "Journey" tribute show band to ever hit the stage.  Established in 2011, they capture the very essence of one of rock's greatest living legends "Journey" with amazing power and accuracy.
This group focuses on the Journey of today and yesterday which has brought worldwide success for "Journey" up until this very day! However there is one exception!  The group?s presentation provides what most Journey fans wish, which is that Steve Perry had never left the band.  Another Journey provides that fantasy!  This amazing show has such a high sell out rate and is why it has gained the attention of many in the tribute community as the very best and more in demand each year worldwide.  See why Another Journey can only be vialed by "Journey" itself.  People love to sing along to all of "Journey's" greatest hits and can't stay seated.