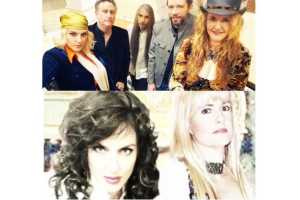 Fleetwood Nicks and Heart Alive
FLEETWOOD NICKS: Fleetwood Nicks is one of the nation's most authentic tribute bands, performing the timeless music of Fleetwood Mac and Stevie Nicks. Fleetwood Nicks focus is on capturing the essence of Fleetwood Mac /Stevie Nicks in their prime---staying true to the original studio recordings that made Fleetwood Mac one of the biggest bands in history. Fleetwood Nicks brings an incredible recreation of Fleetwood Mac's legendary sound to the stage with a rock concert like no other--performing hits from the Rumours album through Fleetwood Mac's famous reunion "Dance" tour. "The Chain", "Go Your Own Way", "Gold Dust Woman", "Dreams", "Little Lies", "Landslide" are just a handful of the classics you'll hear-- as well as concert favorites such as Buckingham's signature encore "I'm So Afraid" and Stevie's haunting "Sisters of the Moon." The band captivates their audience with a powerful creative version of "Rhiannon" that even Fleetwood Mac themselves would be impressed with!
HEART ALIVE is the nation's most authentic tribute to the legendary rock band Heart, performing hits from their Dreamboat Annie album to Desire Walks On. HEART ALIVE was awarded "Best Tribute 2011" by Vegas Rocks Magazine--sharing the award stage with artists such as Sebastian Bach, Vince Neil, and Steve Stevens. Capturing Ann Wilson's power, range and pitch perfect vocals is Christie Copeland, Heart Alive's "Ann Wilson"...with Julie Torchin on guitar and vocals as "Nancy Wilson".