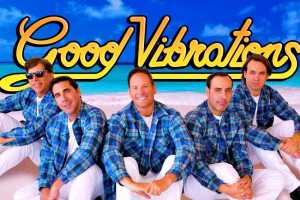 Good Vibrations: A Celebration of the Beach Boys
The Music - Timeless;  The Summer - Endless; The Sound of Summer is: Good Vibrations: A Celebration of The Beach Boys!
Much more than just your typical tribute act, Good Vibrations celebrates the legacy and spirit of the legendary California icons by re-creating the timeless music; youthful appearance and excitement of seeing the original Beach Boys lineup LIVE once again in their mid-1960's prime.
This high energy production brings the days of sun, surf and cars vividly back to life with all the famous Beach Boys anthems, surf guitar shreds and ocean-deep harmonies faithfully re-produced right before your eyes and ears exactly the way you remember them.
Featuring all of The Beach Boys' signature hits including: "Surfin' USA"; "I Get Around"; "Help Me Rhonda"; "California Girls"; "Wouldn't It Be Nice"; "Fun, Fun, Fun"; "Barbara Ann"; "Kokomo"; and of course, the group's namesake classic- "Good Vibrations"!
This is a party guaranteed to have the crowd on their feet, dancin' and singin' along to the greatest hits of one of the world's most beloved bands.  Whatever the occasion, it's time to load up the woody, grab your board and get ready to hit the beach with: Good Vibrations: A Celebration of The Beach Boys!