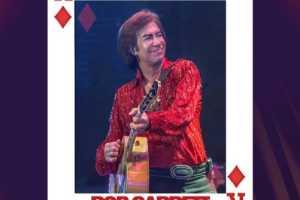 Hot August Night - tribute to Neil Diamond featuring Rob Garrett
Like his iconic counterpart, Rob Garrett was born in New York City. He began learning to sing and play guitar at the age of 13. In 1974, his parents relocated to Las Vegas which still remains his home. In 1980 he formed the group "Rock 'n' Roll Heaven" and for 15 years, achieved prominence as the leader and front man of Las Vegas' premiere "oldies" and classic rock group. The band earned a large local following, performing consistently in various bars, clubs, lounges, and showroom's around Las Vegas.
In 1994, fully aware that the celebrity impersonator industry was becoming a huge business, Rob made the decision to take his career in a different direction by paying tribute to one of his all time boyhood idols (and musical influences), the legendary Neil Diamond. Rob personally auditioned for Paul Revere (founder/leader of the "Raiders") for "Legends in Concert', which was known as the most popular celebrity impersonator production show in the world. He got the job and worked with 'Legends' and off for the next 5 years. Today, Rob Garrett has established himself as the world's most popular and requested Neil Diamond tribute artist, earning the title "King of Diamonds". He continues to set the standard in the industry by performing his tribute the iconic singer/songwriter around the country in venues usually reserved for national/name acts.
On May 28 2008, Rob was presented with the "Male Musical Tribute Artist of the Year" award in Las Vegas. This marked the first (and only) time that such an award was presented to a 'Neil Diamond' act.
Since January 2009, Rob and his band have been performing on rotation at the Cannery Casino/Hotel in Las Vegas. On January 22, 2011, they performed a sold out, SRO, show to over 550 people as a special tribute concert commemorating Neil Diamond's 70th birthday and forthcoming induction into the Rock & Roll Hall of Fame.
Veteran Las Vegas columnist, Norm Johnson wrote... "Of all the Tribute Artists running around Las Vegas (and elsewhere), there is none better than Garrett"
"Hot August Night" with the 2013 Las Vegas "Tribute Artist of the Year", Rob Garrett! Rob, aka the "King of Diamonds", is the most popular and requested Neil Diamond tribute Artist in the business. This show has sold out every time Rob has come to the CasaBlanca, be sure to purchase your tickets in advance!