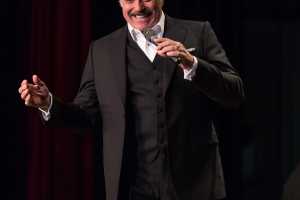 Mark Preston - Mesquite MusicFest
Mark Preston (former member of "The Lettermen) will start off the festivities of the Mesquite MusicFest on Monday, February 4, 2019.
This 3 time Grammy Nominee will be performing favorite romance hits including: "Put your head On My Shoulder", "More Today Than Yesterday", "Goin' Out of my Head", "Shangri-La", "After the Loving"; "I Swear" and many more! Variety Magazine dubbed mark Preston "One of the best entertainers in show business today." Phyllis Diller always referred to Mark as "The Finest Voice Around. He sings, acts, emotes...fabulous."
Accompanied on stage by a symphony orchestra or just a trio, from Las Vegas, to the Philippines or Europe, to the worlds' largest cruise ships, Mark Preston has performed thousands of shows in theaters all around the world, truly earing him the title "International Entertainer". Along with a lengthy and very successful solo career, Mark's unique talent preceded him again, and he was asked on two separate occasions to join the world famous recording group – The Lettermen. On each occasion, Mark accepted, and he performed for a total of 11 years with the group. In 2001, when The Lettermen were inducted into the Vocal Group Hall of Fame, Mark was asked to participate in the evening's induction concert. Mark performed the famous The Lettermen hit "Going Out Of My Head" with the 3 original members of the group, as well as several other past and current members of The Lettermen. His shows combine almost every type of music, from Pop to Broadway to Country as well as plenty of humor. Whether he's singing "My Way" or "Friends in Low Places", Mark Preston delivers his songs with a showmanship and ease rarely seen on stage.
Ticket Prices Per Show:  (Tickets on sale soon)
Advanced General Admission: $25; Day of show GA: $27
Advance VIP Reserved: $30; Day of show VIP: $32 (Booths and regular seating available)
*For VIP Booth seating (Booths 1-9) must purchase 4 tickets total at time of purchase)
"Super Package GA" – purchased before Feb 4, 2019 – one General Admission ticket to each of three shows, $69 for all 3 shows.
"Super Packege VIP" purchased before Feb 4, 2019 – one VIP Reserved Table seat ticket to each of three shows, $84 for all 3 shows