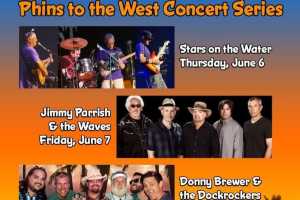 Phins To The West Concert Series: Jimmy Parrish & The Waves
A native Floridian and long-time Jacksonville resident, Jimmy's been performing both as a solo act and with his band for nearly thirty years. After forming the Ocean Waves Band in 2000, his goal was to entertain audiences throughout the southeast with an island style tropical vibe. Armed with a combination of acoustic rock heavily influenced by the music of Jimmy Buffett, along with his love for the ocean and time spent in the islands, Jimmy helped pave the way for what would be an up-and-coming musical genre now known as 'Trop Rock'.
In 2008, Kenny Chesney's management group hosted a nationwide contest to find the Next Big Star, which Jimmy and his band won in the northeast Florida region. As a result, they were awarded the opportunity to open for Chesney at the Jacksonville Memorial Arena later that year. It was quite a thrill indeed, Jimmy boasts. "We got to play rock stars for a night in front of nearly 15,000 people!"