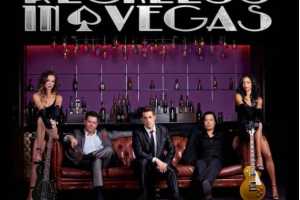 Reckless In Vegas - Modern Rock-Vintage Vegas
Reckless In Vegas has blended the imagery, banter and classic music from the 1960's Glory Days of Vegas with a contemporary rock band aesthetic. They've created an exciting show with modern versions of songs by artists such as Frank Sinatra, Dean Martin, Elvis, Sonny & Cher, Frankie Valli, Neil Diamond, Johnny Cash, Bobby Darin, and more. Whether you remember the swinging Vegas lounge era days or were born later, Reckless In Vegas has something for everyone. Video montages, dialogue, humor, modern hard-rocking grooves, and tender moments of balladry combine to create a truly original take on this classic genre. Think The Rat Pack meets Green Day.
Reckless In Vegas is a power trio comprised of Michael Shapiro on vocals & guitar, Jack Roth on drums, and Chris Nichols on bass & vocals.