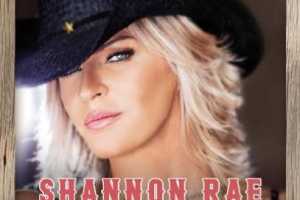 Shannon Rae and Urban Skies
Shannon Rae is 100 Proof California Country Rock. She is a Southern California native raised on The Eagles, Linda Ronstadt and Tom Petty and influenced by Shania Twain, Keith Urban and Carrie Underwood. Her second album Lucky 13 released in 2018 showcases that Shannon has hit her stride with an original style all her own. Lucky 13 is a sassy combination of Country, Rock, Pop and even a splash of Bluegrass. Grammy award winning producer Chris Lord Alge says, "Shannon Rae has everything it takes to be a country rock star!"
Shannon's distinctive musical career includes two all-girl trios, pop band Demimonde (Saban/Shuki Levy) and the country influenced Sweetwater Junction, which fed her desire to write and perform as a solo artist. In 2015 Shannon joined forces with producer, songwriter and band mate Dave Polich who together have written and produced a noteworthy catalog of songs, making their mark with the debut hits Walk Away, Both Guns Blazin' and Beer Trucks & Girls. And now with the release of Lucky 13, you'll hear the new singles Get Lucky with its own original choreographed line dance, and Tequila, a crowd-pleasing sing along!
Her live show is a must see as Shannon and 100 Proof (her band) bring a rockin' high energy performance of all original country tunes with catchy riffs and engaging lyrics that will get the whole audience a singin' and a two steppin! 
URBAN SKIES pays tribute to one of the most exciting and exhilarating performers in music today. With millions of records sold, numerous #1 singles and countless packed arenas worldwide, Keith Urban has become a staple in the country music scene and is loved by fans and critics alike. His concerts resemble a rock n roll circus full of great music, amazing stage set-ups and on-stage excitement. URBAN SKIES is the next best thing to a Keith Urban show with seasoned musicians performing all the songs you know with the high energy excitement you'd expect from a Keith Urban concert. John Brodersen as Keith urban, Dave Sale on Bass, Scot Myers on guitar, Bob Duda Drums.