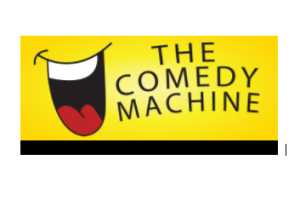 The Comedy Machine
Featuring three top comics from all over the United States . . .
Headliner: KEY LEWIS
Key Lewis is a Sacramento California born, high energy, improvisational, storytelling and multiple-personality nutcase! My love for the people and hunger for the stage is my undying motivational stories about his interracial childhood, family, and unusual views on relationships, make Key simply a joy to watch. His ability to improvise and interact with all types of crowds makes this up and coming comic and actor one to look out for. Key Lewis has appeared on Marlon Wayans TBS's Funniest Wins, Starz Networks StaannDup, Kevin Harts One Mic Stand as well as Bill Bellamy's Who's Got Jokes!
Feature: STEVEN BRIGGS
Steven travels to comedy clubs across the US and Canada and has been compared to such notables as Pablo Francisco. His hilarious stories and sound effects will keep you glued to your seats and your belly sore from laughing. Steven recently returned from a tour entertaining the troops in the Middle East and Africa. Check out his video on Sirius XM satellite radio. He is someone you just don't want to miss! Seen on Uproar & ESPN.
Host: MIKE KIRSCHENBAUM
Mike "Old Man Rivers". Mike, the world's oldest struggling young comic, has played most major comedy clubs including the Improv, The Comedy Store, Stanford's and Sons, and most recently, New York's Comic Strip. Mike has written for the Muppets, and several television shows including, Family Ties, D.C. Follies, He Man, and Scooby Doo. He's written for numerous comics including Rodney Dangerfield, Phyllis Diller and Joe Piscopo.
Must be 21 or older.
SPECIAL BIRTHDAY PROMOTION! Free Admission for those born on March 7, 8, 9 or 10. Must show picture ID with Birthdate at the CasaBlanca Box Office on 10 after 5pm to receive Complimentary ticket.