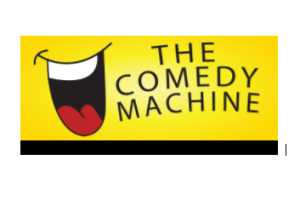 The Comedy Machine
Featuring three top comics from all over the United States . . .
Headliner: DAN BENNETT
Dan Bennett combines his outstanding physical and intellectual skills in one of the most distinctive variety acts on stage. "Mastery over gravity" is the phrase which best describes his well-crafted execution of unusual juggling feats. Adept at captivating audiences either live on stage or on the screen, Dan Bennett's television appearances include "The Tonight Show with Jay Leno," "Arsenio Hall," "PM Magazine" and "Good Morning America."
Feature: BOBBY WAYNE STAUTS
Though birthed in Mississippi, Bobby Wayne Stauts is not your average Southerner. Raised in a mechanic shop by a father that was addicted to drag racing and a mother that was addicted to women, Bobby was guaranteed to have a different take on the world. Bobby has headlined over 40 colleges and universities, appeared on a handful of major television networks and becoming a regular at Las Vegas casinos. Make some time to check out Bobby Wayne Stauts. You'll never look at Southern folks the same after you do.
Host: KRISTA KAY
Standing at a jaw-dropping 6'6", Krista Kay commands attention in any setting. Krista is a "head above the rest" in more ways than her height. Krista garnered her height earning a basketball college scholarship. Comedy started out as a way to cope with bullies at a very young age but it quickly became a passion as well as a career. Krista's positive attitude and upbeat personality got the attention of a television show and she was chosen out of 400+ women to be a cast member on TLC's My Giant Life.
Must be 21 or older.
SPECIAL BIRTHDAY PROMOTION! Free Admission for those born May 2, 3, 4 or 5. Must show picture ID with Birthdate at the CasaBlanca Box Office on 10 after 5pm to receive Complimentary ticket.