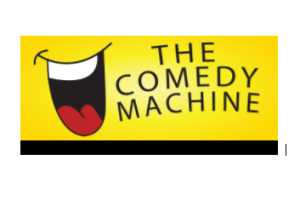 The Comedy Machine
Featuring three top comics from all over the United States . . .
Headliner: Galli Kroup
Gali is simply hilarious – original –intelligent, sophisticated, clean comedian and one of the hottest up and coming comics! Originally from Israel, Gali was born with the stage bug and was on stage as early as 10 years old, playing in school's comedy/drama theatrical shows.
With a highly developed sense of humor and zany wit, Gali decided to pursue her unquenchable passion for acting/comedy and attended the actors workout studios in N. Hollywood and booked many roles in short films. The determined funny lady continued to write funny jokes until getting the courage to get on stage perform stand up comedy!
Gali had a meteoric success doing stand up! the Israeli Jewel is now standing out as a busy comedian exciting audiences with her clever, insightful take on the life humor, performing in major comedy clubs across the country.
This Jewish gal is quicly picking up momentum and gaining a following with comedy-goers generating energy & excitement everywhere she performs. With big dreams and aspiration...she is unstoppable!
Feature: Kurt Swann
For the past 15 years Kurt has performed in comedy clubs and for corporate clients across the country. He has appeared in all types of venues from smoke-filled bars and comedy clubs to theaters and ballrooms. The audiences have varied greatly and have included everyone from business bigwigs (and some small wigs) to The San Francisco International Comedy Competition.
Besides performing, Kurt also writes for the award winning comic strip, "Dustin,"which is syndicated in over 300 newspapers nationwide.
Host: Gina Manning
Gina Manning is so funny, you'll wonder why she isn't already rich and famous, or at least a trophy wife. She has been featured in the OB Rag, Daily Breeze, UT-TV, and Radio Titans. Check her out.
Must be 21 or older.
SPECIAL BIRTHDAY PROMOTION! Free Admission for those born July 4-7. Must show picture ID with Birthdate at the CasaBlanca Box Office on 10 after 5pm to receive Complimentary ticket.