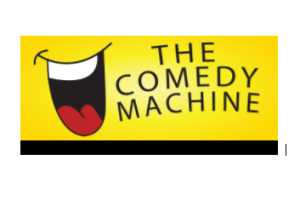 The Comedy Machine
Featuring three top comics from all over the United States . . .
Headliner: Dennis Blair
Dennis Blair is a true Renaissance man. He is an accomplished screenwriter, award-winning songwriter and comedic actor. Yet he is probably best known for the caustic observations and musical satires of his live comedy performances. Early in his career, Rodney Dangerfield made him his protégé, and together they toured the United States and Canada for over three years. "He has the fastest comedy mind of anyone I ever met. If life is fair, he should make it big." – Rodney Dangerfield
Dennis conceived and co-wrote Rodney's hit movie, "Easy Money", and also played two cameo roles.
Feature: Trever Trez Mala
When not traveling the countryside doing Stand Up Comedy, Trez makes the Stratosphere hotel and casino, Planet Hollywood, and Hooters Casino his comedy home. His comedy stylings are a collection of life stories, a jamabalya of sketch comedy, improv, and with a hint multiple personality disorder. Having fun is destination number one!
Host: Holly Logan
Holly Logan is a comedian from Los Angeles who always has something to say and an opinion on everything! Holly has infiltrated the Hollywood comedy scene and can be seen performing all over. Her gift of wit is sure to keep her audience laughing and wanting
Must be 21 or older.
SPECIAL BIRTHDAY PROMOTION! Free Admission for those born September 12-15. Must show picture ID with Birthdate at the CasaBlanca Box Office on 10 after 5pm to receive Complimentary ticket.