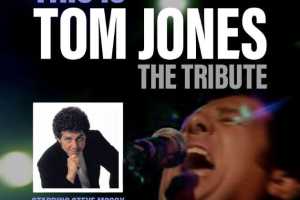 This is Tom Jones - The Tribute
For over two decades as a unique performer in the tribute and entertainment business Steve McCoy, who is known as the world's greatest Tom Jones impersonator is the story of excitement, struggle, sweat, passion, determination, charisma.
You'll hear the big hits like "It's Not Unusual"; "What's New Pussycat"; "Green Green Grass of Home"; "Delilah"; "I'll Never Fall in Love Again"; "Love Me Tonight"; "She's a Lady"; and more!! Steve brings his top musicians with him for a full show of heart-throbbing music!
Steve entered a Tom Jones look-a-like contest where Sir Tom Jones himself was the judge. He won first prize, which then led him to Las Vegas, where he has been a mainstay on the Las Vegas strip for over 25 years performing in the world famous "Legends In Concert". Steve has been given the biggest thrill of all, what an honor of being the inspiration behind author Gale Martins new mystery novel, WHO KILLED "TOM JONES" which has received critical acclaim and numerous writer Awards.