To appreciate all the natural beauty that Mesquite, Nevada and the surrounding areas have to offer, it's as simple as stepping outdoors. Encouraging outdoor activities, sleeping under the stars and family-friendly vacations, these unique accommodations showcase the unforgettable experiences that can be had in this breathtaking desert gem.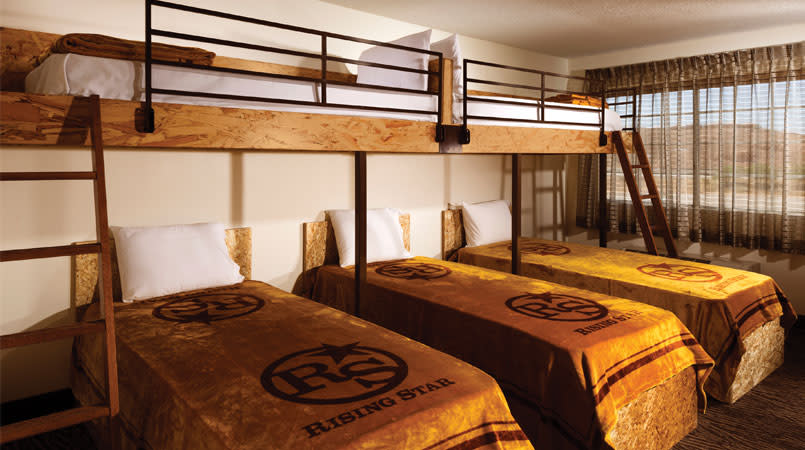 Evoke the Wild West on a Modern Ranch 
For a family vacation that melds outdoor adventure and spacious accommodations, Rising Star Sports Ranch offers the best of both worlds. Nearby to many Mesquite activities like world-class golf, exciting hiking destinations (Zion National Park and the Virgin Mountains) and many on-site recreational opportunities, it's a hit for a small family vacation, a ranch-themed reunion or a team excursion. The non-smoking, configurable rooms feature options like King Suites, adjoining rooms with bunk beds, or a Coach's Corner Room to accommodate groups of all sizes and ages. Fun amenities like video games, balconies, white boards and more ensure that the ranch motif also boasts modern amenities. Stay entertained onsite in the arcade or head to The Backyard where you can splash in the pool, pick up a game of basketball, try your hand at pickle ball, throw some horseshoes or play life sized chess. There's something for everyone.
Imagine exploring the unique landscape, and getting up close and personal with camels and other exotic animals.
Take a break from the hustle and bustle of city life, go off-grid and escape to the desert for a one-of-a-kind adventure for your next group gathering. Camel Safari, nestled near the Virgin River and Great Basin mesas, offers encounters with 30 Bactrian and Dromedary camels, a two-toed sloth, alpacas, African-crested porcupine, and other exotic animals by day.
For a rustic family or group getaway, Aravada Springs
For a rustic getaway that has room for a large group of a family getaway, Aravada Springs has ample space and plenty of activities that everyone can enjoy. Just south of Mesquite, Aravada Springs is close to hiking trails and many interesting sites like God's Paintshop, featuring petroglyphs and rock formations; the cool respite of the Ice Caves; the cavernous sinkhole of Devil's Throat and more. The accommodations offer flexible options that can fit groups of any size. Embody the feel of camping in one of the preassembled Miners Tents or book a cabin that offers private bathrooms, stoves, refrigerators, and enough living space to accommodate groups from two to five. On-site activities include several freshwater ponds, a waterslide, pool table, archery range, fire pits and more. 
Explore a whole new side of Mesquite with one of these unique experiences that you won't be able to wait to tell your friends about.