Mesquite is an ideal destination for many reasons, a couple of which are the outdoor activities and adventures offered. The holidays are here, and it's the perfect time to consider taking a trip to this city. Continue reading to discover all the fun, family-friendly things to do in Mesquite.
Adventures Around Mesquite
Visit Whitney Pocket, a popular, roadside attraction that's part of the Gold Butte National Monument. The area is covered with white, red and orange sandstone, and is bespeckled by Joshua trees. But a word of warning to drivers – the road into the attraction can be rugged and uneven! Getting to Whitney Pocket is manageable for most vehicles but going beyond the pocket will require off-road and high-clearance vehicles.
Little Finland is a great place to have a picnic lunch with the family and pause to take in the incredible beauty that Mesquite offers. With its remote location and scenic area, it's known for its red rock scenery and strangely shaped rock formations similar to Valley of Fire State Park. The drive requires a four-wheel-drive vehicle.
Enjoy a guided, interpretive tour with unique and up-close animal encounters at Camel Safari, located just outside Mesquite. Expect to see plenty of camels, as well as porcupines, alpacas, llamas, sloths, tortoises, beautiful sand cats and more! An amazing experience for kids to interact with animals, it's the perfect outing for animal lovers.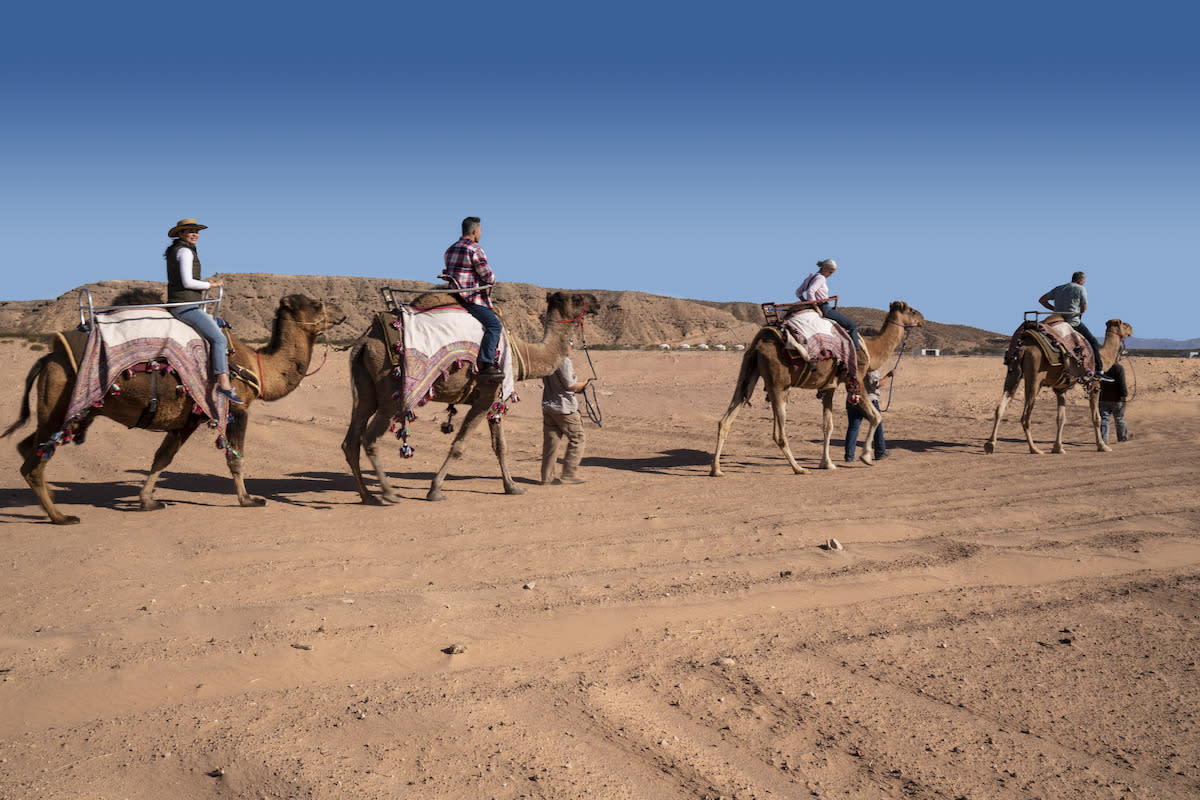 Camel Safari
Need to let off some steam as you wind down for the holidays? Visit Skydive Mesquite and take an epic leap from over two miles above the city and enjoy the incredible sights and exhilarating experience. Reviews claim that the expertise of the staff is amazing and adds to the breathtaking experience.
Mesquite Motocross Park is a highly popular, off-road racetrack with four different tracks. It also has bleachers that offer a great vantage point to watch all the action commence on the courses. The park also hosts various events year-round, such as the Lantern Festival and Spartan Races. It also offers RV parking at the course.
A casual day on the golf course in Mesquite is the ideal way to rest, wind down, relax and connect with your loved ones. Plus, a little friendly competition always adds to the holiday fun. Mesquite has nine courses, most within 10 minutes of the hotels, each offering a different vantage point of the picturesque landscapes that feature rugged desert arroyos, panoramic fairways and stunning layouts.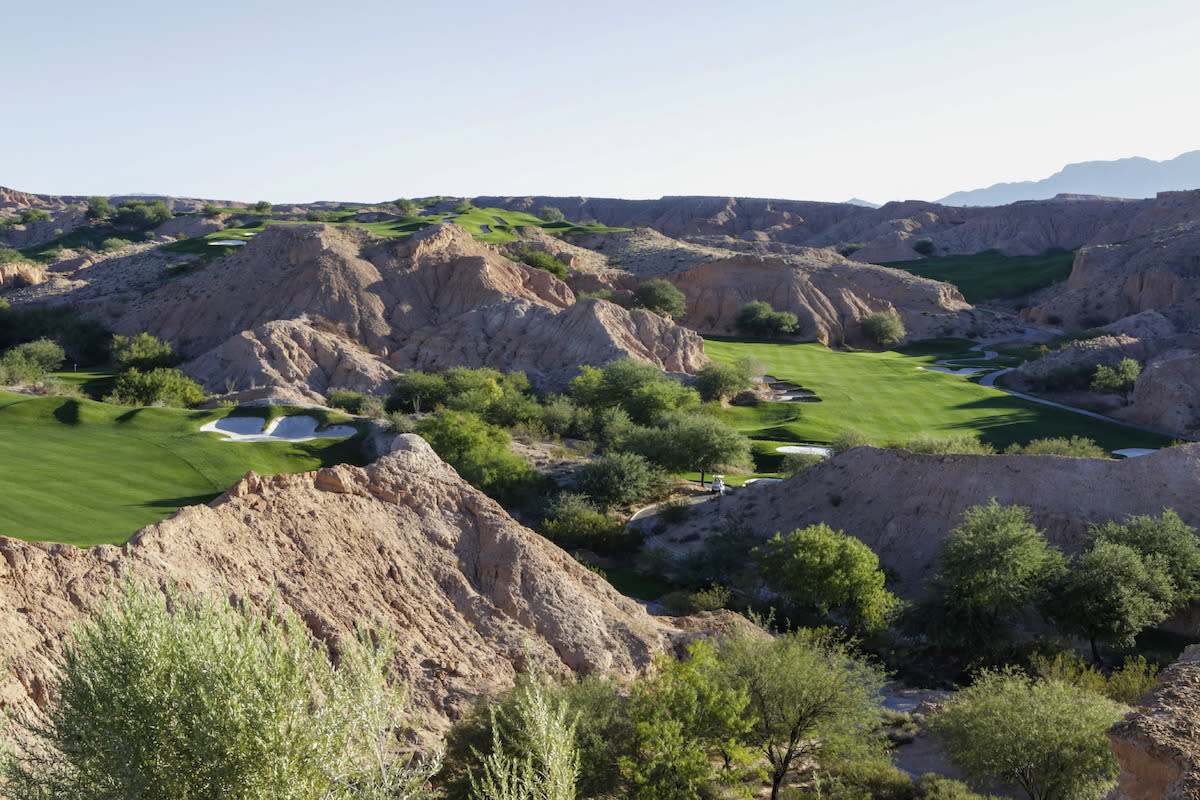 Wolf Creek Golf Club
Shop and Stroll in Mesquite
Flowers from The Front Porch Flowers & Gifts are a surefire way to perk up anyone's day! This charming, locally owned shop provides top-notch service and quality. Various other specialty items are sprinkled throughout the store, making this a perfect place to get your specialty holiday shopping needs to be fulfilled.
Give the gift of one-of-a-kind art pieces from the Mesquite Fine Arts Center's annual Christmas Boutique. Local artists fill the tables with their paintings, ornaments, stationery, pottery, jewelry and other handmade treasures. The gallery is located within walking distance from The Front Porch, making for a fun and leisurely afternoon of holiday shopping. 
Dive into the treasures of Rooster Cottage Consignment Gallery on Pioneer Boulevard. Various consignment offerings such as furniture, artwork and gifts are to be found, and it's a wonderful spot to wrap up your holiday shopping with a few fun, off-the-wish-list options.
If gift baskets are your style, grab one at J.S. Merchant at Eureka Resort. Guests staying at the resort can even get gift baskets delivered directly to their room – such a fun way to surprise and delight a family member on the trip with you!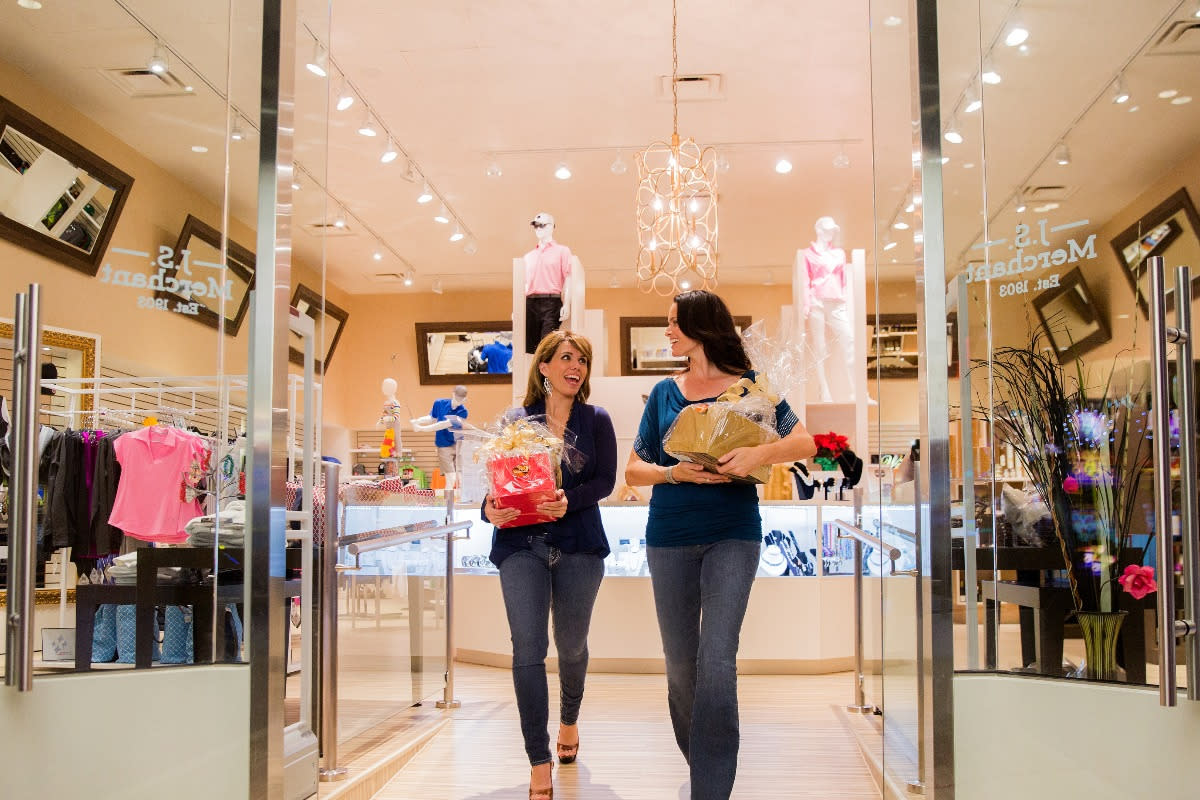 J.S. Merchant at Eureka Resort.