Discover rest, relaxation and more when you plan a getaway to Mesquite! From golfing to hiking to spa days and even a Camel Safari, Mesquite, Nevada, has everything you'd want in a getaway. Regardless of the time of year, there's always something exciting happening in this friendly destination.
Experience Winter in Mesquite
During the winter months, there's an assortment of various things to do, unlike alternative destinations when there's closures due to cold weather. With moderate temperatures and a packed special-events calendar, the season is merry and bright in Mesquite.
 The destination features nine championship golf courses, all within a 10-minute drive of the major hotels and resorts. Cradled in the Virgin Mountain foothills, the courses feature stunning panoramic views, fore real!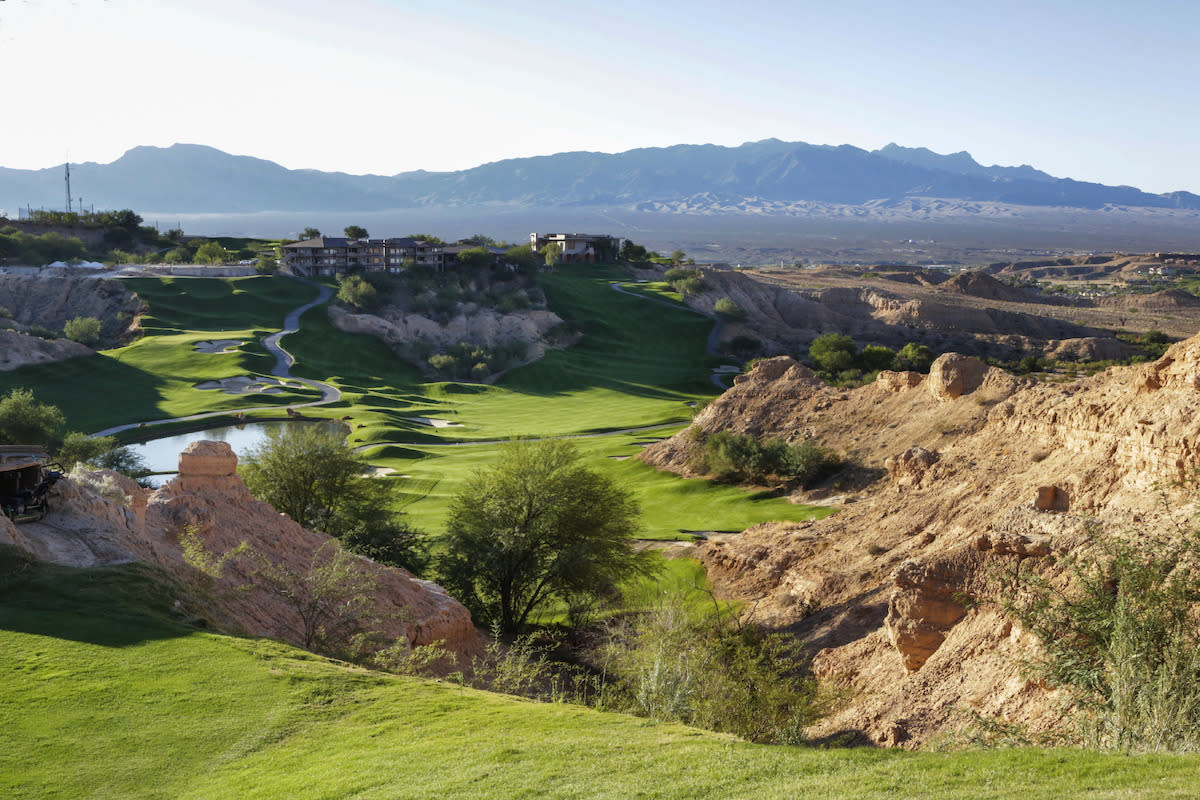 Wolf Creek Golf Club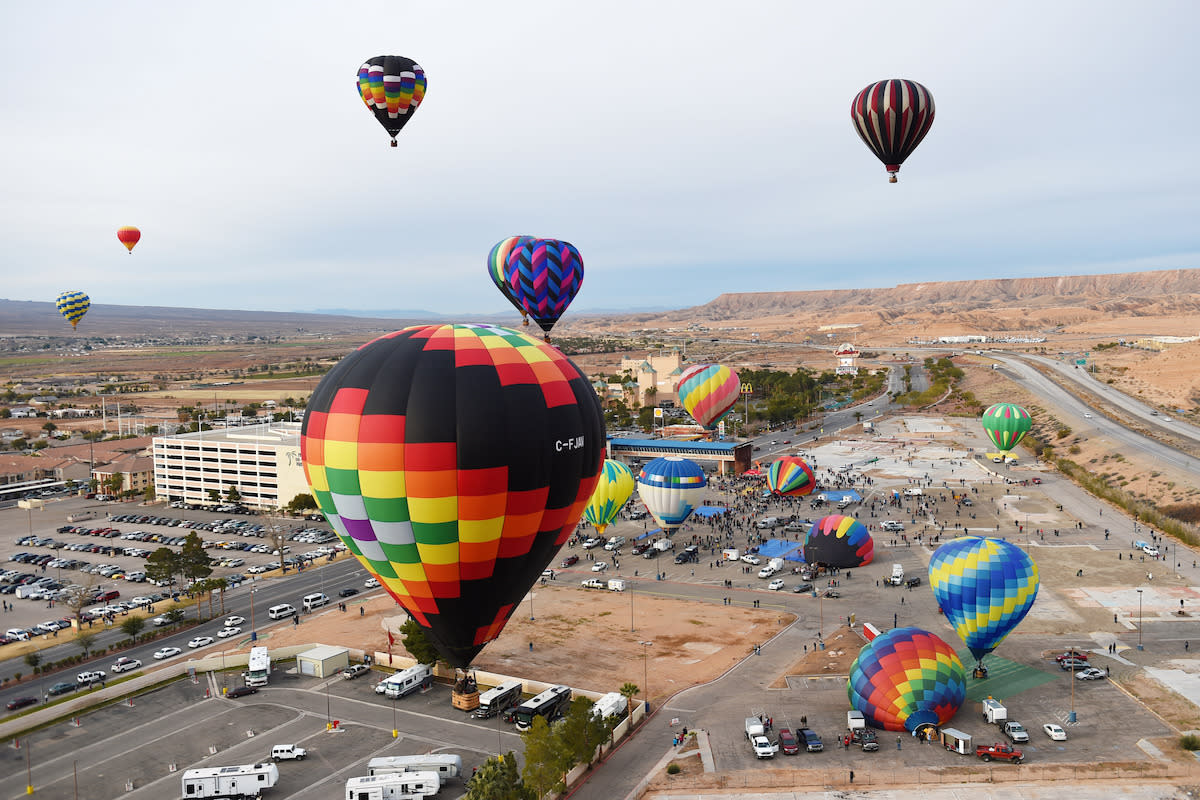 Hot Air Balloon Festival
Mesquite also boasts cultural experiences, where you can learn more about the area's history. The Virgin Valley Heritage Museum features collections, exhibits, and special events that explore the region's rich pioneer history. For a look even further back, the Lost City Museum displays prehistoric artifacts from early Pueblo culture.
Celebrate Spring in Mesquite
The flowers are blooming, the weather is warming, and Mesquite is thriving. Spring is a splendid time to visit the destination.
Lake Mead National Recreation Area — America's first and largest — comes to life every spring. During this season, the cerulean waters start to warm and the weather is delightful. The land is home to Hoover Dam, incredible wildlife and family-friendly activities.

The weather also might be perfect for jumping out of a plane! Do just that with Skydive Mesquite, wherein you can gain a totally new perspective of the destination and surrounding Mojave Desert.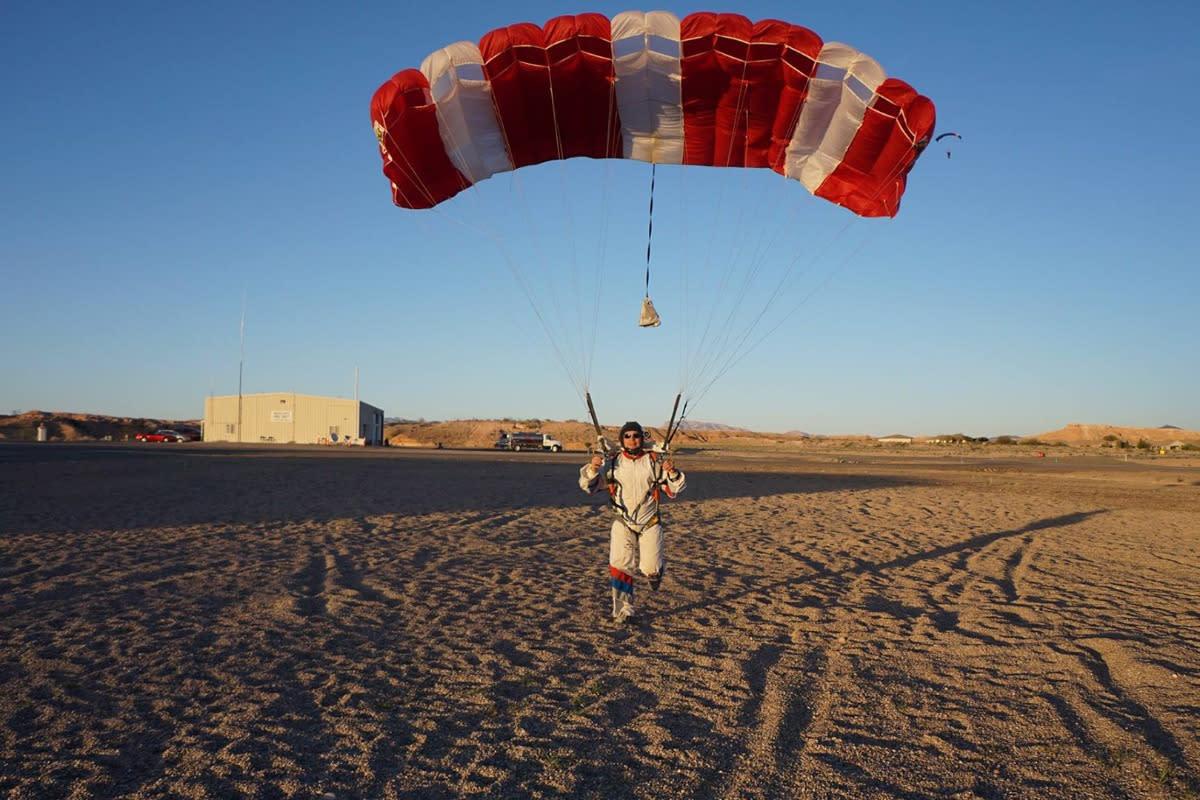 Skydive Mesquite
Golfing never goes out of style in Mesquite. You and your crew can enjoy a round of 18 holes while taking in scenic views and the fabulous weather conditions this spring.

Mesquite's entertainment and events calendar also is routinely robust. After taking in the sights — be it a round of golf or a skydive — head to a theater for an awesome concert or catch a spectacular game. With a variety of artists and genres on the entertainment calendar year-round, there's always a show happening for you in Mesquite.

How about a springtime safari? The Nevada desert is home to all kinds of wildlife, but at Camel Safari, you can get up close and personal with animals you'd otherwise have to travel thousands of miles to meet. The accredited zoo features more than 30 camels, sloths, porcupines, alpacas and more.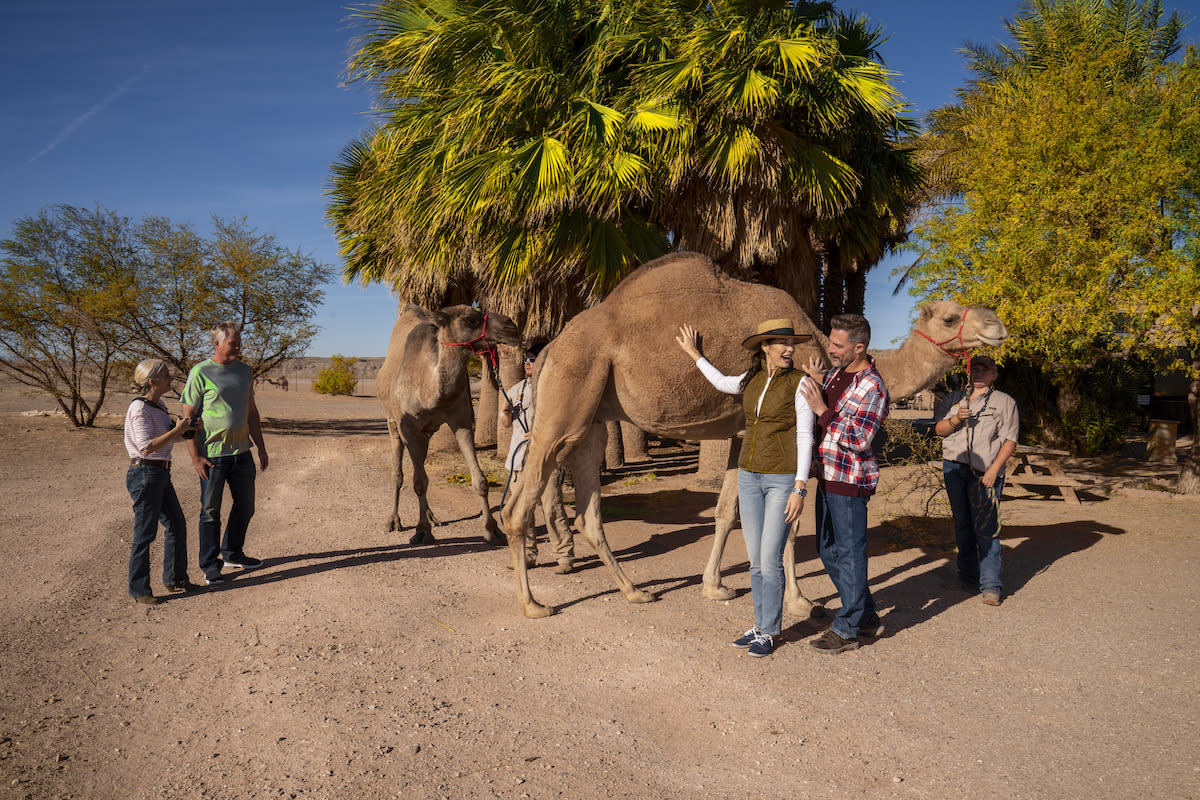 Camel Safari
Get a taste of some Wild West action at The Smoking Gun Club. Featuring 14 sporting clay stations, two trap houses, two skeet houses, five pistol bays, and 17 competition pistol bays, rentals are available at this spot.

If you want to explore the area a little more leisurely, why not rent an off-roading vehicle out to the desert landscape? Adventure Rentals allows you to do just that. Don't forget to snap a few Insta-worthy pics!
Adventure Rentals
Splash into Summer in Mesquite
The summer sun is an invitation to get out and explore all that Mesquite has to offer. Whether you're poolside or taking in a thrilling attraction, summer is sensational in the destination.
Make a splash as the destination boasts several resort-style pools. Relax while taking in palm-tree views, sunny skies and, of course, peace of mind.

Looking for a more natural approach to refreshment? Take a plunge into Lake Mead, a massively popular spot during the summer season. The national recreation area offers water activities such as personal watercraft, water skiing, tubing and more.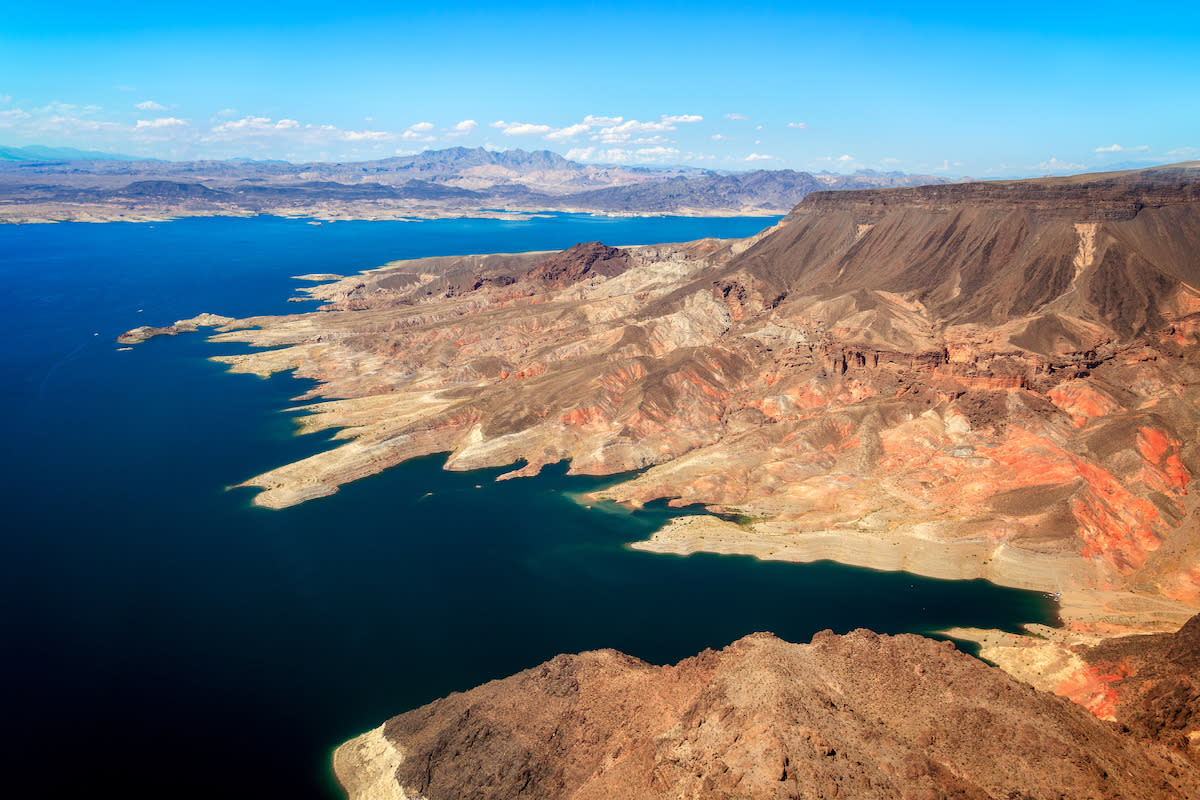 Lake Mead
Shopping is always a fabulous way to spend a summer afternoon. The gift shop in the Mesquite Fine Arts Center is the perfect place for visitors to purchase original art, unique pottery, jewelry, cards and more. If gift baskets are your style, grab one or many at Eureka Casino Resort — guests staying at the resort can even get gift baskets delivered directly to their room. You also can purchase a fresh arrangement at The Front Porch Flowers & Gifts, a locally owned shop providing top-notch products and services.

Get your need for speed at the Mesquite Motocross Park, an off-road racetrack that offers open practice and routinely features special events. Its bleachers offer a great vantage point to watch all the action!

The Spa & Salon at CasaBlanca Resort-Casino-Golf-Spa offers visitors a rejuvenating experience that can be enjoyed year-round.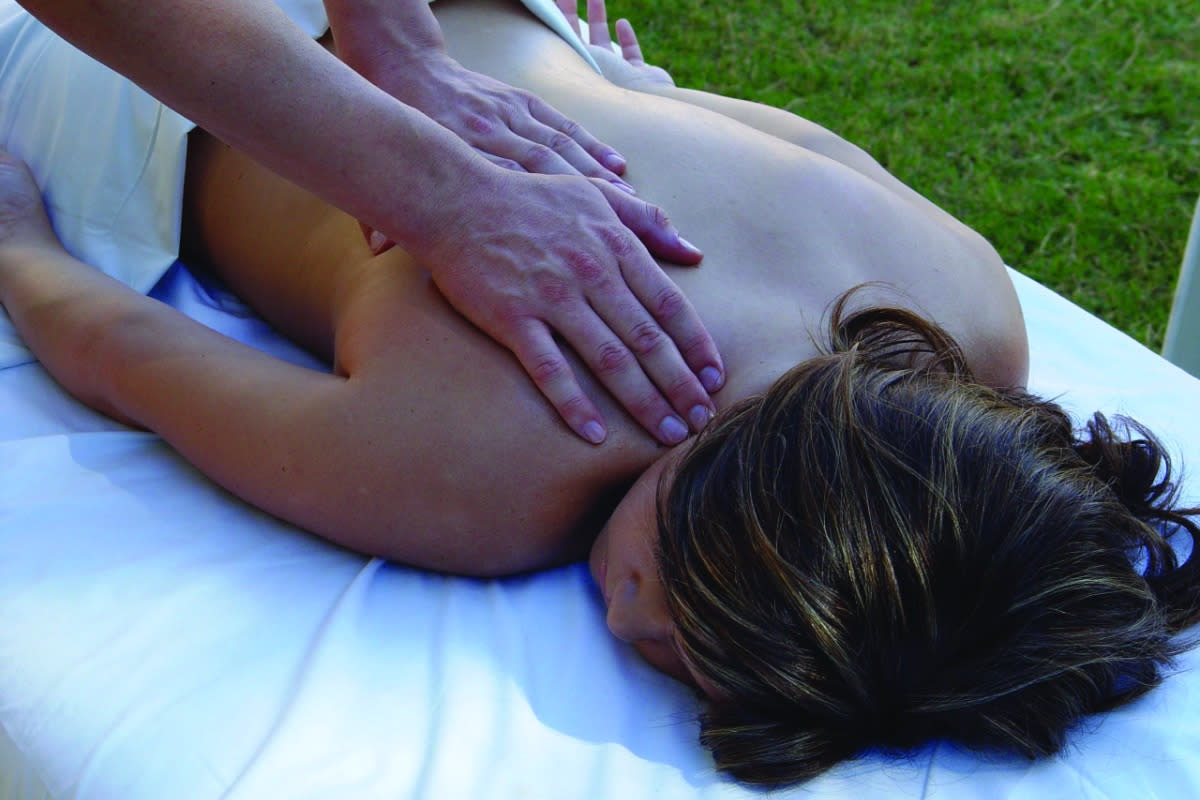 The Spa & Salon at CasaBlanca Resort-Casino-Golf-Spa
If you find yourself in Mesquite for Independence Day, don't miss the "Rockets Over the Red Mesa" fireworks show. Hosted at Eureka Casino Resort, this Fourth of July spectacle is one not to miss.

Start some friendly competition at the Cosmic Bowling Center inside Virgin River Hotel/Casino/Bingo. In addition to the action on the lanes, the space also offers an arcade, lounge and pro shop.
Fall into Autumn in Mesquite
The fall season is a great time to visit the city. Nevada has beautiful weather year-round, with its envy-inspiring come autumn — making it a perfect season to visit the destination.
With the leaves changing color on trees throughout Mesquite, it's a perfect time for a long drive to take in the beautiful flora. Make a pit stop to relax and stroll through the tree-lined path at Hillside Arboretum. Don't forget to make frequent stops to document your journey!

Automobile enthusiasts also can look forward to fall in Mesquite, as the Super Run Car Show takes place every September at the CasaBlanca Resort-Casino-Golf-Spa and other participating casinos. The four-day event features a classic car show, a slow drag race, a burn out contest, a roaring engine competition and so much more.

This time of year is ideal for hiking and several other outdoor activities. Get those steps in and spend time with nature. Among the many nearby national and state parks and monuments is Gold Butte National Monument, one of the newest in the nation. Head out and explore 350,000 acres of canyons and mountains while taking in the beauty of the vibrant red sandstone.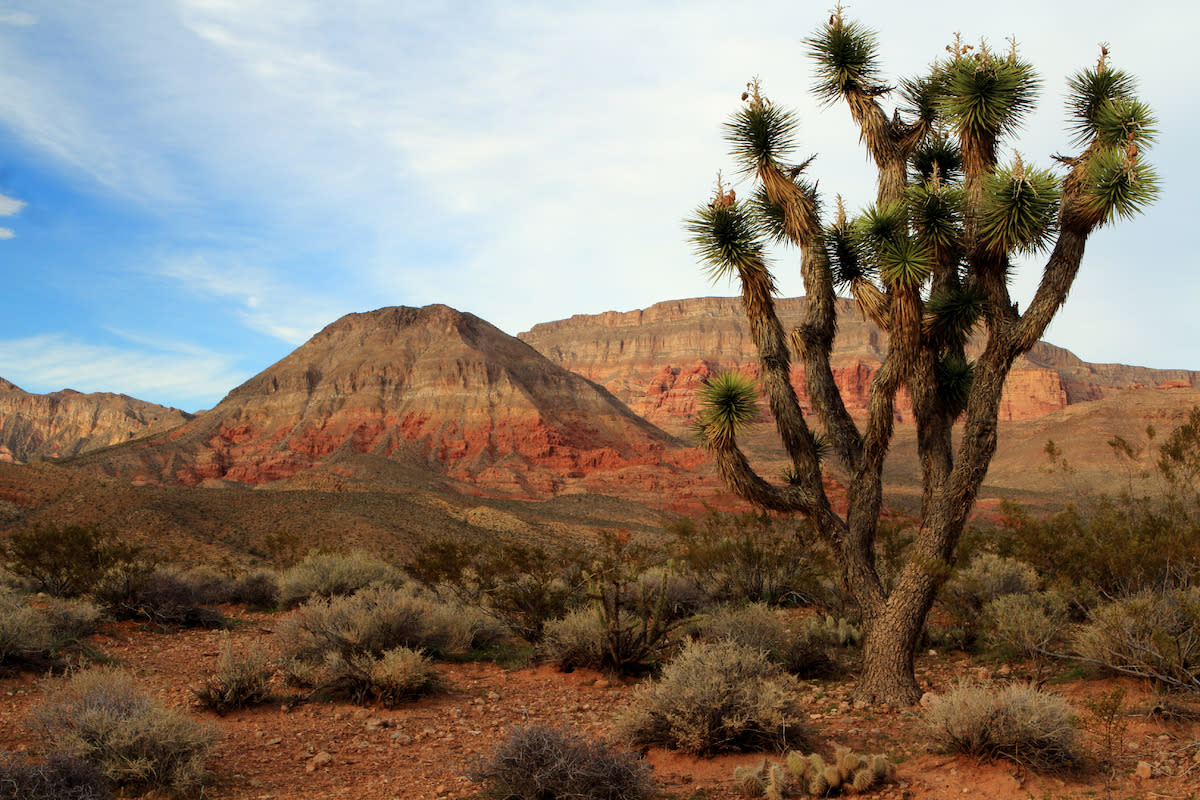 Virgin River Canyon
If hiking isn't your forte, check out Adventure Rentals and their fleet of Polaris RZR off-road vehicles ideal for exploring the area with some speed. Vroom!

Mesquite hosts exciting sporting events year-round, and the autumn weather is perfect for some spectating. Held each November, the Nevada Open Golf Championship has 40 years of history and is a highly anticipated event. Watch over 200 players take to the greens at the CasaBlanca Golf Club and Palms Golf Club.

Looking for something both entertaining and educational? Mesquite's new Donkey History Museum explores the historical and cultural significance of the traditional pack animals with displays, a theater and a virtual reality center. Don't forget to stop by the gift shop!
With so many things to do in Mesquite, Nevada, your getaway to this destination will be fun-filled — yet relaxing — from start to finish. Discover the various deals for the destination and book your trip to Mesquite!