Be #MesquiteSmart
It's high time to relax, play some golf, and explore local attractions and recreation along the Virgin River. After all, you've earned it. And when you arrive, you'll notice that we have some smart procedures across the city to bring you peace of mind. Along with our changes, there are some simple things you can do too: like being mindful of social distancing, wearing mandatory face coverings when you're around others, and washing your hands often. We know you're ready to escape. Together, we can do it the #MesquiteSmart way.

Keep Your Distance.
At least 6 feet apart.

Mandatory Masks.
Whenever you're in public.

Wash Your Hands.
No matter what.

Seek Medical Attention.
Before you travel if you're feeling unwell.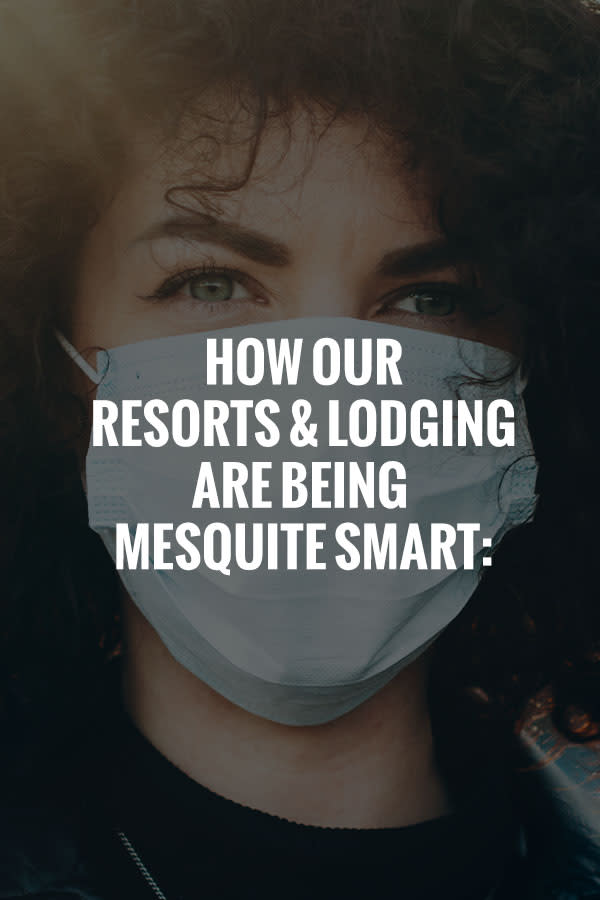 Nevadans and visitors are required to wear face coverings when they are in public, with limited exceptions. Many of the destination's resorts have put together a thorough health and wellness plan based on the advice of health and government officials. Governor Sisolak announced April 13 that the state-wide goal is that every county will be able to fully reopen at 100% capacity by June 1. The mask mandate will stay in place. Below you can find a link to each resort partner's plan, as well as more information about capacity, social distancing and cleaning practices.
Currently, there are no travel restrictions on travel within the domestic U.S.
For the most up-to-date travel information, please visit www.lvcva.com/covid-19-updates
Nevadans and visitors are required to wear face coverings at all times, for both indoor and outdoor activities. This includes:
Public spaces:
When in public spaces, both indoors and outdoors.
Inside of restaurants when not actively eating or drinking.
While at work:
When interacting in person with members of the public.
When in any space visited by the general public, even if no one else is present.
When in any space where food is prepared or packaged, for sale, or generally distributed to others.
When walking through common areas, such as hallways, stairways, elevators and parking facilities.
In any room or enclosed area where other people are present (except for members of the person's own household or residence.)
Exceptions to the face covering mandate include:
Within one's own household; while eating and drinking.
Children ages 2 to 9 are strongly encouraged to wear face coverings when in public spaces. Children ages 10 and above are required to wear face coverings when in public spaces.
Those who have a medical condition or disability preventing the removal of a face covering. Individuals exempted under this provision should wear a nonrestrictive alternative, such as a face shield, if possible.
Those who are hearing impaired or when in communication with a hearing-impaired individual.
Those who are obtaining services involving the nose or face for which temporary removal of the face covering is necessary to perform the service.
Those engaged in outdoor work or recreation when alone or with household members and able to maintain social distance.
Those seated at a restaurant or other venue that offers food or beverage services, while they are eating or drinking and able to maintain social distance.
Those whom wearing a face covering would create a risk related to their work, as determined by local, state, or federal regulators or workplace safety guidelines.
Those experiencing homelessness. These individuals are strongly encouraged to continue to practice social distancing, to wear face coverings if possible, and to seek out community services where available.
Those who are incarcerated.