Mesquite, Nevada is a true golfer's paradise. The picturesque destination boasts nine championship golf courses, each varying in amenities, offerings and unique vantage points of the surrounding landscape such as rugged desert arroyos, panoramic fairways and stunning layouts. So, as you plan your trip and look for things to do in Mesquite, be sure to add a few Mesquite golf courses to the list, especially as they are within minutes of the resorts!  
Winding through the wetlands, this par 72 course hugs the Virgin River basin and features lush fairways with desert wildflowers. The 18-hole championship course is complemented by a driving range, putting green, deli and bar. Better yet, you can snag a sweet deal with its golf and room packages offered by CasaBlanca Resort-Casino-Golf-Spa.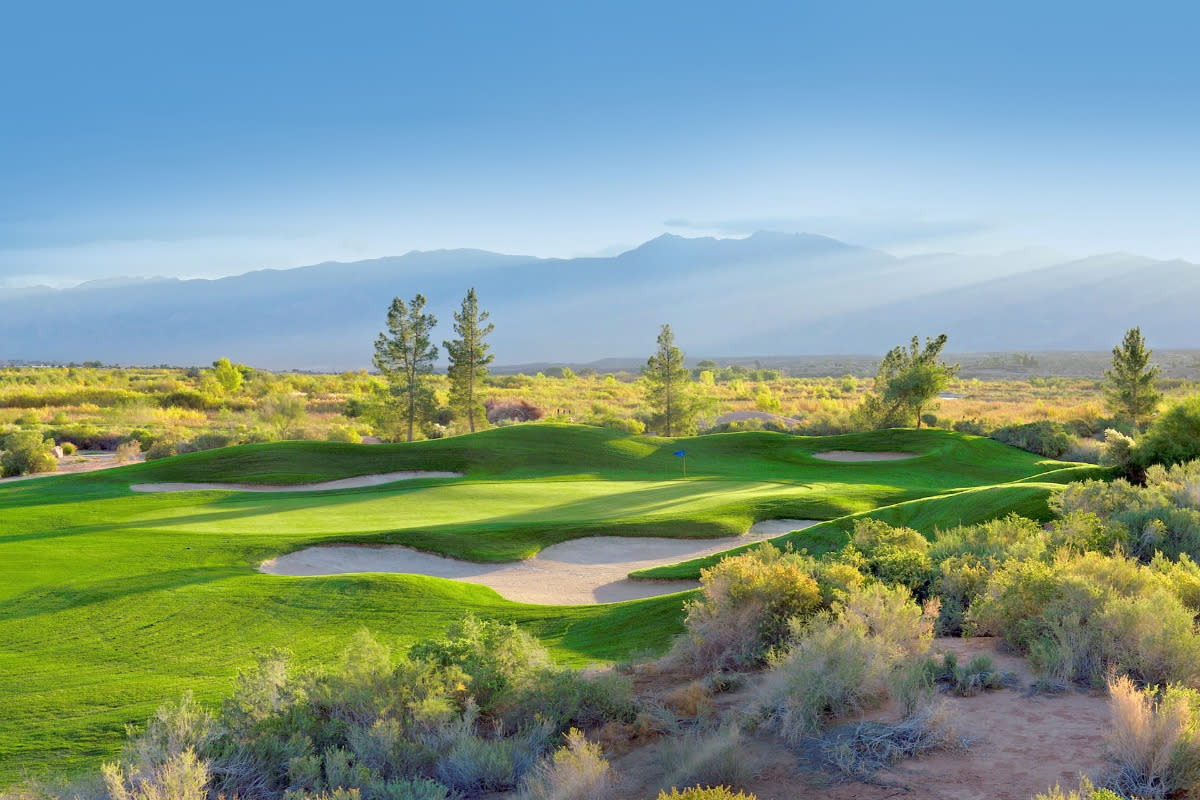 CasaBlanca Golf Club 
Looking for something more leisure-focused? This nine-hole, regulation-length course offers a quick round ideally suited for beginners and those looking for a quick way to get in a round of golf, or relaxed recreation. It also features putting and chipping greens, warm-up nets, and snacks available at the pro shop. 
The course's emerald, green fairways are situated among Mesquite's hills and canyons. Elevation changes and water features are sprinkled throughout, adding to its welcoming challenge for golfers both skilled and amateur alike. Start or finish your day at Scotty's Bar & Grill, offering breakfast and lunch items with a menu of beer, wine and spirits. 
Another par 72 and championship 18-hole course built in 2009, interweaving with the character of Mesquite's spectacular landforms, canyons, rugged rock outcroppings and calming water elements, making for enjoyable scenery at every hole. Its offerings are completed with a driving range, putting green and the 1800 Grille, a great spot for a burger and a private-label draft beer post-round.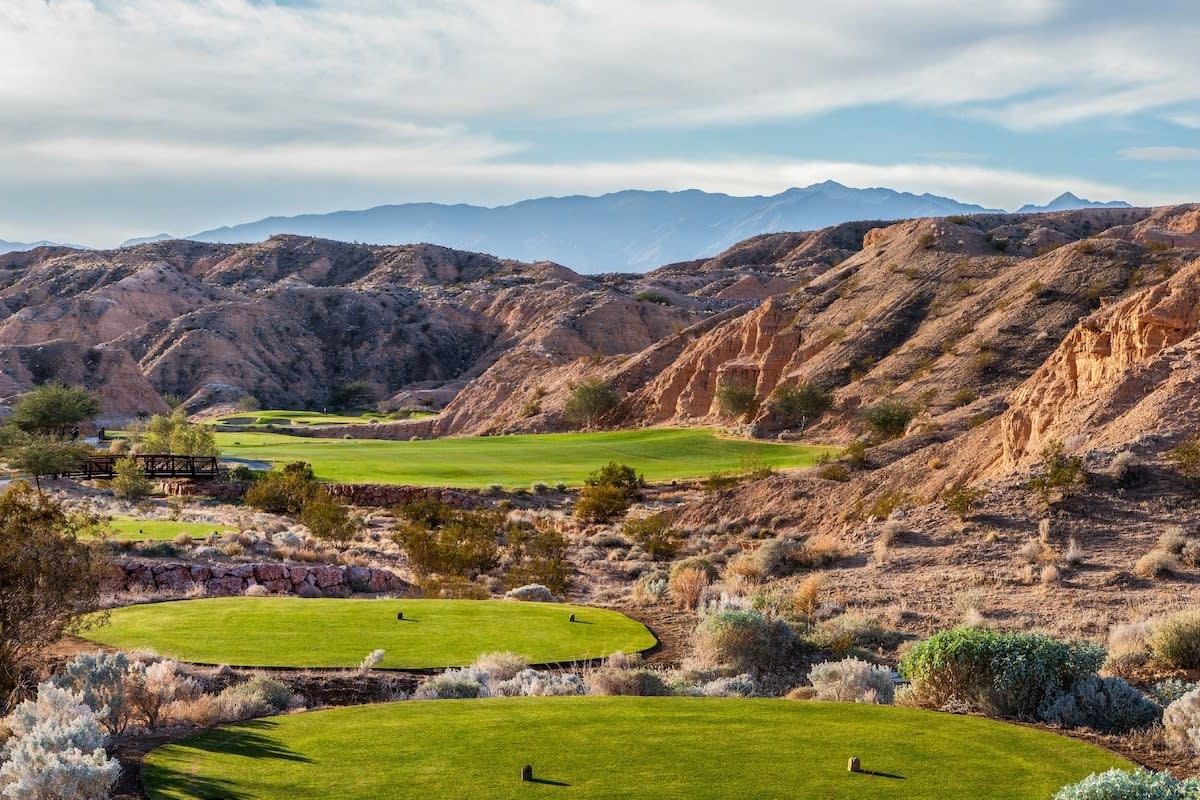 Conestoga Golf Club
Oasis Golf Club – The Palmer 
The legendary Arnold Palmer designed this club's original course, Mesquite's only semi-private facility. Non-members are recommended to make reservations in advance, ensuring you are able to experience this incredible course. There's also a driving range, chipping and putting greens, and much more on-site.  
Oasis Golf Club – The Canyons 
Making up the other 18 holes in Oasis Golf Club's 36-hole course, The Canyons affords golfers the same spectacular views of Mesquite's diverse landscape. Just as at The Palmer course, visitors can enjoy the club's amenities which include The Worden, a full-service restaurant with grab-and-go options. 
Surrounded by Mesquite's towering mountains, this course was designed by the great Jack Nicklaus. In addition to its 18 holes, the club also features an expansive practice space with 13 target greens and a short game for pitching, chipping and bunker use spanning over 22 gorgeously landscaped acres. Grab a snack and refreshments at Mitch's Bar & Grill while you're there.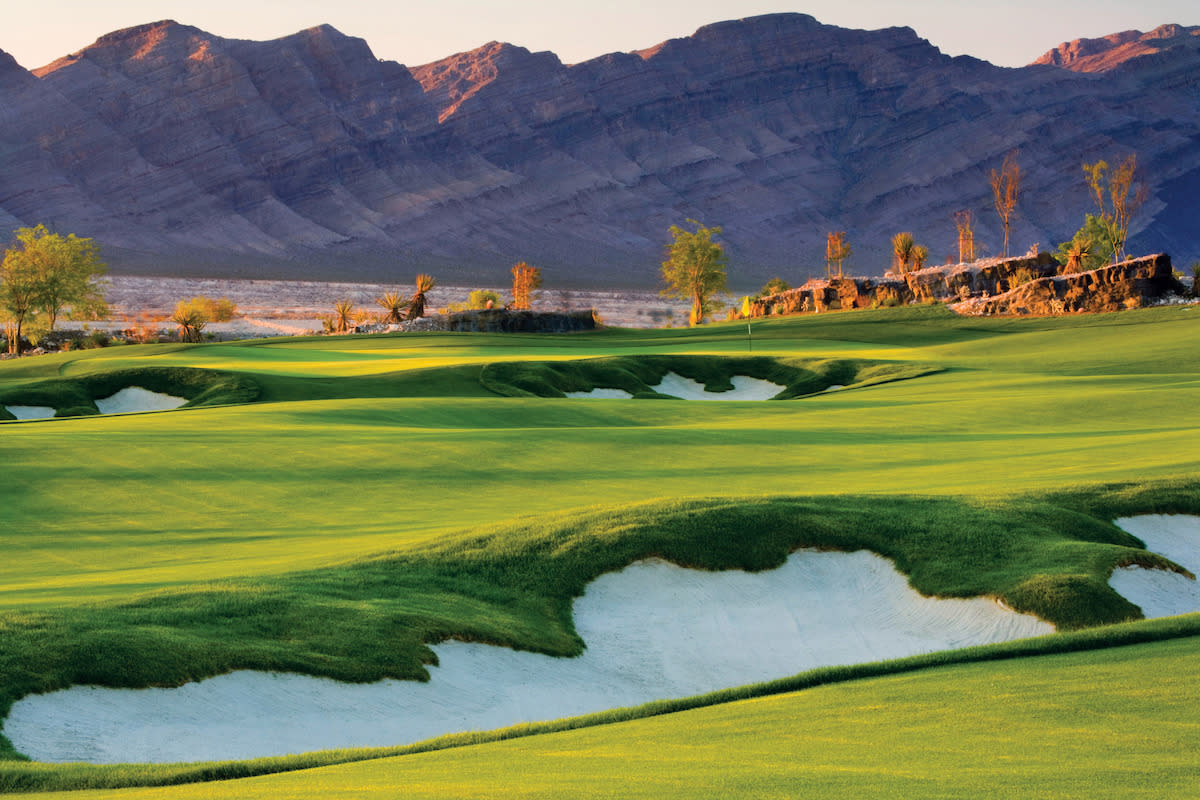 The Coyote Springs Golf Club
With the front nine holes dramatically differing from the back nine, this course is ready to challenge any golfer. From expansive fairways with water features to elevated tees with impressive views, you'll want to snap a few selfies while playing your favorite game. 
Gorgeous fairways, pristine greens and white-sand bunkers make this premier course a picture-perfect spot to play a round. An award-winning course, golfers from all over the world come to play this bucket list golf course. Set among wandering canyons, the club also features driving ranges, chipping and putting greens, and The Terrace Restaurant. Enjoy a bite to eat while taking in Mesquite's natural beauty. 
Whether you're pro-level or just getting your footing on the green, any enthusiast will be thrilled with the golf courses in Mesquite. Once you've booked a tee time, check out the entertainment options that await after a day at the golf club, plus, check out the year-round list of things to do in Mesquite.